I first saw work by the French-Luxemburg artist duo Martine Feipel and Jean Bechameil two years ago at Galerie Fontana. It was the exhibion 'Un monde parfait – In dust suspended'. I wrote an article for NRC about the way they use their sculptures to come to grips with the desolation of the modern utopia that was realized in concrete on the edges of Paris – as in many other cities.
Earlier this year, at an art fair in Maastricht, Fontana showed another work of theirs, a turntable also made of concrete:
I saw their work again this week at Fontana's Summer Expo (through Sept. 9th) and was reminded of an exhibition I saw in the Foto Museum Antwerp (FoMu) of work by the French photographer Mathieu Pernot. His series 'Les Implosions' is an extensive archive of photographs of the demolition of huge housing complexes, also on the periphery of French cities, that originated from that same concrete utopia. All the photographs were taken at the moment that the buildings started to crack and fall – a strange, even touching moment of vulnerability for structures intended to be so robust and permanent. Pernot could have used Feipel and Bechameil's subtitle 'In dust suspended'.
What made these archive pictures even more effective was the combination with a selection from the author's 60 hand-colored postcards from the same period, all brimming with optimism – and propaganda – about the promise of the new age ahead.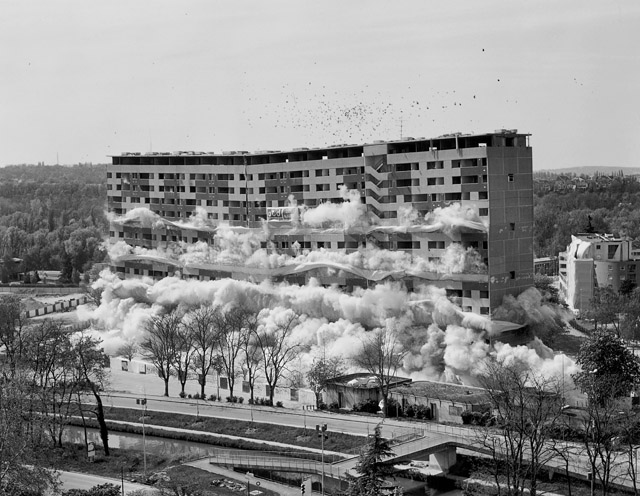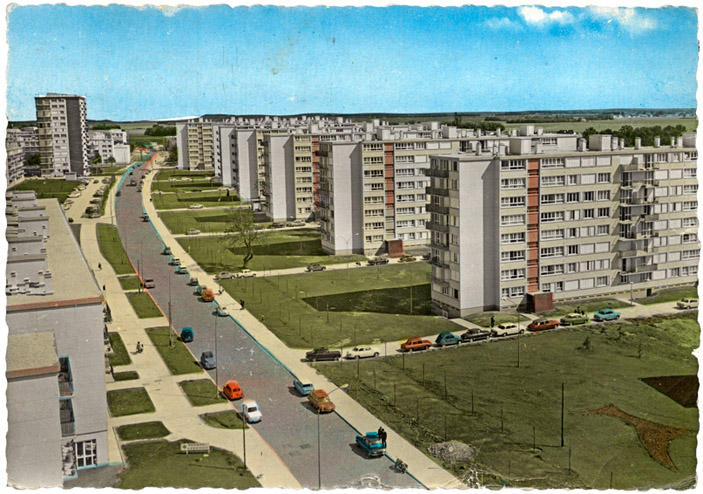 Read the article (in Dutch):  Tracy Mets – NRC – De ruines van een utopie uit de jaren zeventig – juli 2017